Veneers
---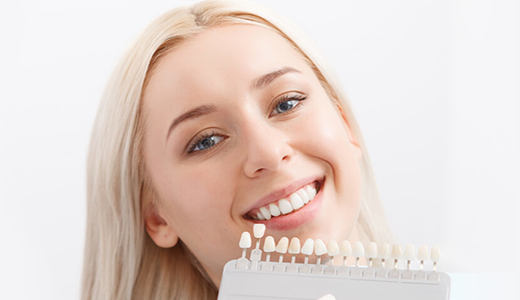 A bright and beautiful smile can have a positive impact on your life. If you have cosmetic concerns about your teeth, veneers may be a suitable option for you. Veneers are thin, custom-made shells covering the front of your teeth, providing a natural-looking and long-lasting solution to various dental problems.
The effective team at State Valley Dental of Cuyahoga Falls, OH, is proud to serve the local community with premium dental services, rejuvenating the look and feel of your teeth so you can get back to enjoying all of life's daily pleasures.
What are Veneers?
Veneers are made of porcelain or composite resin and designed to look and feel like natural teeth. They can improve the appearance of chipped, cracked, discolored, or misshapen teeth. The veneers are custom-made to fit your teeth perfectly and can be shaped and shaded to match the rest of your teeth.
The veneer procedure typically involves two appointments. During the first appointment, your dentist will prepare your teeth for the veneers by removing a small amount of enamel from the surface of your teeth. They will then take impressions of your teeth to create custom-made veneers and place them during a second visit.
Veneers offer several benefits, including:
Improved appearance: Veneers can enhance the appearance of your teeth, giving you a brighter, more symmetrical smile.
Stain-resistant: Veneers are resistant to stains from food and drinks, making them durable for maintaining a bright smile.
Long-lasting: Veneers can last 10-15 years with proper care, making them a cost-effective option for improving your smile.
Minimal prep: In most cases, only a tiny amount of enamel needs to be removed before placing veneers, making the procedure minimally invasive.
Your Quality Dental Care Team
If you want to improve your teeth' appearance, veneers may be a suitable option for you. They offer a long-lasting, natural-looking solution to various dental problems and can provide you with the bright and beautiful smile you desire.
During your next appointment with the skilled team at State Valley Dental of Cuyahoga Falls, OH, you can be sure you receive the proper care and guidance you and your family deserve.